Atlanta Water Heater Repair Services
Is your Atlanta water heater leaking? Not sure if you should repair or replace it? Call us at (678) 386-7513 to schedule an appointment today. Use these online sales and coupons to save on your services.
Plumbing is never a popular subject among homeowners. Although plumbing is a vital reality to the comfort and convenience of any home, it is very rarely on the top of the list of priorities and concern for homeowners.
As a general rule, it normally takes some type of plumbing issue to garner the attention of the homeowner. Plumbing is that aspect of home existence that is simply taken for granted — out of sight, out of mind. Unfortunately, when your home's plumbing is not given an adequate amount of attention, it can lead to more serious problems that can be quite costly.
One of the most common problems that homeowners face is water heater malfunction. At Greenlee Plumbing Inc., we are committed in providing our customers with the information necessary for them to recognize potential plumbing issues so that they can address them before they become severe. If you are living in a multi-family home or own an apartment, no need to worry. We service your home with no problem. Count on Greenlee Plumbing, Inc. to handle all of your Atlanta water heater services.
Read our reviews and see why Atlanta neighbors are pleased with our services.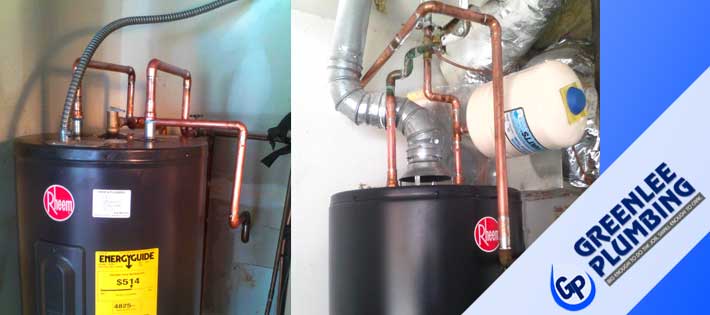 What are causes of water heater problems?
There are some common causes for the malfunction or total failure of water heaters. Some are simple and trivial and can be easily repaired, while others are more serious and may require replacement.
Watch out for these common signs:
No hot water. With a gas heater, your lack of hot water is due to the pilot going out.  No hot water from an electric heater could be because the heating coil is out. Depending on the model and the age of the heater, the coil can be repaired or it may have to be replaced.
Manifestations of rust, corrosion or leaks. Leaks will not only impact your hot water supply, they can also present the potential for water damage to your home. Rust and corrosion can taint the water supply also.
Heater has reached its age. The maximum lifespan of a water heater is 12 years. Although there are many that will last well beyond that, the risk of unpredictable failure becomes extremely high. It is best to replace them at 12 years than to have them blow out and cause significant damage to your home.
When will you know if you need repair or replacing?
We make sure to provide our customers with enough information to make an educated decision on whether they will have us repair or replace the water heater.
However, you should consider replacing your water heater if:
It is over 12 years old. Twelve years is the maximum that you should keep your water heater. There will be times that the heater may last longer than 12 years, but the risks of leakage and water damage runs too high after 12 years.
If you began to see brownish or reddish coloration in the water. This is caused from the inside of the tank rusting and corroding. It is also a precursor to additional problems.
There's inconsistency in temperature. If there is a continuous issue with consistently keeping the water at the right temperature, replacement may be needed.
There are a number of steps that you can take to prevent future problems with your water heater, beginning with proper maintenance.
You should have all gas lines and pipes checked, and the inside of the tank should be emptied and examined. Failing to properly maintain the water heater is the number one cause of problematic issues associated with water heaters.
Do you need to repair or replace your water heater? Get your unit inspected by our premier plumbing team. Call (678) 386-7513 for up front pricing.